In our blog posts we try to give our readers a little bit of everything.  We like to showcase various students who have made an impact with their freshly learned filmmaking skills.  We like to inform people of various websites they can use in their classrooms or even just a simple technique students can do to make their films better.  This month we wanted to start a new chapter and showcase a teacher who has had exceptional success in his classroom and ask him to tell us all how he did it.
Without further blathering on, allow me to introduce you to Don Goble, broadcasting and filmmaking instructor at Ladue Horton Watkins High School, St. Louis, Missouri.  Don has been a Sneak On The Lot user for a while now and we were first introduced to him at our summer workshop in Los Angeles… take it away, Don!
My questions would be, when you arrived what state did you find the production program?
I arrived at Ladue Horton Watkins High School in 2005. The school had a well established, fully functional television studio, but it wasn't fully being leveraged for all of its possibilities. There were two broadcast journalism classes, and a student television show, that admittedly was not watched by the student body.
What did you do to turn it around?
My first step to leave my mark was to build a program. I didn't want to teach a class. I wanted to create a production. I wanted to do this by creating a brand of who we were. So I created an identity for our program called LHS-TV. This was the first step of setting expectations. The students would be held to create professional style work. The school would come to expect a student-branded production that the community would be proud to call their own. We would create a morning news show, a monthly student-produced television show, and a district live-to-tape talk show.
I began by having students take ownership of their work by pushing digital portfolios. What started out as a Channel on SchoolTube.com, morphed to an online presence on LHSTV.Weebly.com, as students would take ownership of their work and blog about their experiences. The final step was to publish their work to the world.
My next goal was to establish relationships with local and national universities. I wanted post secondary schools to know and come to expect work from my students to create opportunities for them to excel at the next level.
I also began to build partnerships with local professional stations, at first networking with news anchors and industry experts, to actually partnering ways for students to create content for professional productions. We did this most successfully with HEC-TV and our local St. Louis NBC affiliate KSDK.
I created an environment with students that they didn't come to our area to join a class, but because a part of a production that was larger than them. We built a team of collaborative opportunities, student leadership opportunities, and an overall college preparatory experience.
The first three years were hard. We were faced with push back from stakeholders, adversity of Poor equipment, lack of value for this learning style, and from certain members in our community who simply did not believe we could fulfill our vision. But we never wavered. By year five, the students were truly running the program and my job as the adviser was to find ways to take our production and learning to new levels with the advent of more sophisticated technologies. On a unique note, through our professional partnership with HEC-TV, we had a student collaborate on their Program HEC-TV Live and win an Emmy Award, as a Senior in high school, at the age of 18. It was unbelievable.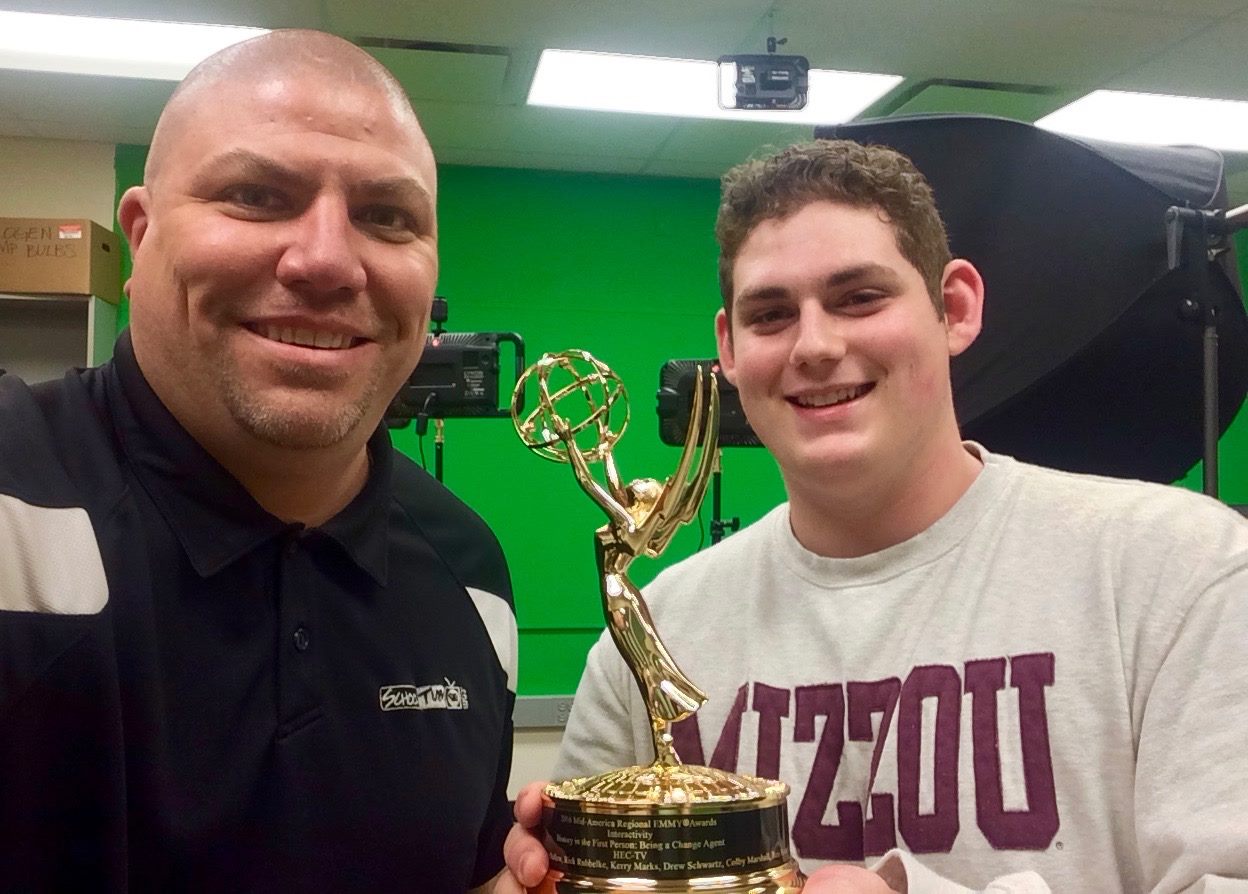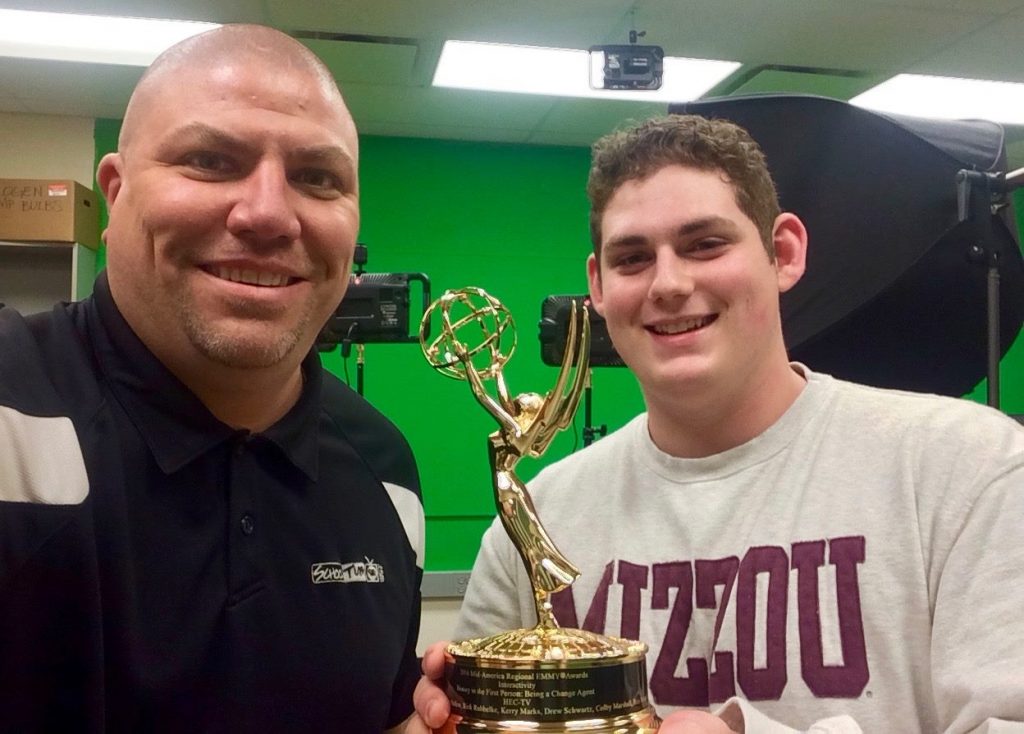 Where are you now
Now, students in our program manage an engaging and interactive online media production site, LHSTV.weebly.com. We feature student videos, blogs, websites, poll questions, photos of the week, social media and highlight the awesome work happening in our school and community. Our site averages over 600 unique visitors and 1,500 page views per week. The content students create is authentic, valuable, and highly visible.
In addition, for the past seven years, we developed a strong film production pathway for students to explore their interests in documentaries and cinematic narrative film. Our immense partnership with Sneak On the Lot, has provided students a self-directed film curriculum which allows students a creative and powerful learning experience to advance the passion for film. Therefore we became LHS-TV & Films.
In addition, my students learned through the power of social media, that other students around the world are creating outstanding media. We created a website GSNN.weebly.com, The Global Student News Network. We curate student work from over 83 countries on Twitter through the hashtag #GSNN and feature K-20 positive student media.
Where would you like to see it go?
Where I would like to see our program go is to continue our professional partnerships. For the past three years I have developed curriculum for students to use mobile devices to research. write, shoot, edit, and publish stories. As of this year, we have officially begun teaching students how and why to use social media as journalists and filmmakers. The confidence and empowerment which I have observed within students to positively use social media for good, to decipher and weed throw the negative media, and become advocates for themselves while building their brand, to tell their story has been nothing short of inspirational.
Finally, I am working on the creation of a documentary to follow our past Broadcast students and learn how the skills they learned in our class have impacted their choices as adults. You may join The Power of Video – a Documentary Facebook Group.
Whether these former students are in the film or TV business or not, I am exploring how the life lessons of learning the media creation process and how a collaborative teamwork experience in high school, has impacted these students. You can learn more about The Power of Video: a Documentary can be found on our GoFundMe Page.
I'd like to end with a fabulous new sizzle reel that a former students of mine created to highlight the amazing work of our former students who are excelling in film, journalism, and professional video production. Each time I watch, I am inspired. I think back to how simply offering students a space to be creative, explore, struggle, and succeed, can leave an indelible mark.
"Where Will Ladue View Take You?"
What can you do to offer students an experience that will have an everlasting positive impact in a child's life? Comment and share with your ideas. I would love to learn from you.