"Report Card", the summer workshop for 2017, has been our all around, most successful workshop to date.  We are constantly refining our process for these workshops and this one simply had the best of everything.  The right script, the right actors, the right crew members… all of it!  We are super proud of our teachers and the guest crew members who took them by the hand to show them how to employ their talents.
After orientation we took the teachers to City Walk at Universal Studios.  We've done this for years and it's a great way for the Teachers to break down their walls and get to know each other.  For those who have been to the workshop before, this photo will seem like deja vu.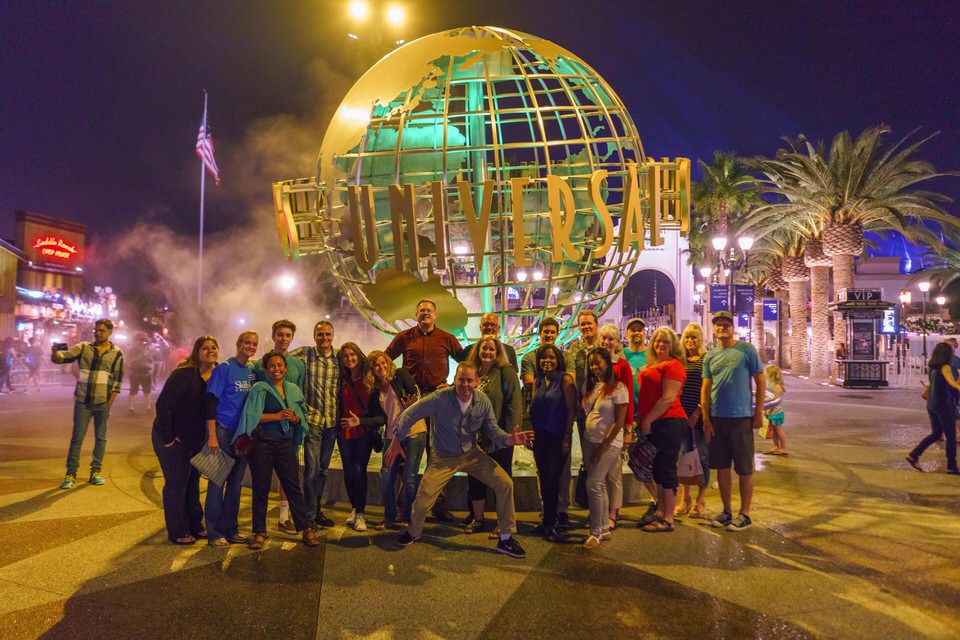 There is always a few days of classroom stuff to get through.  It's a bit like drinking from a fire hose but it's all important stuff.  We cover screenwriting, story and character development, screenplay format, storyboards, filmscapes, production meetings, call sheets, shooting schedules and much more… in just a few days.  We have to get these rookies entrenched in the basics of how to make a film because just three days later they will be crewing up a short film for real and expected to throw down like a pro.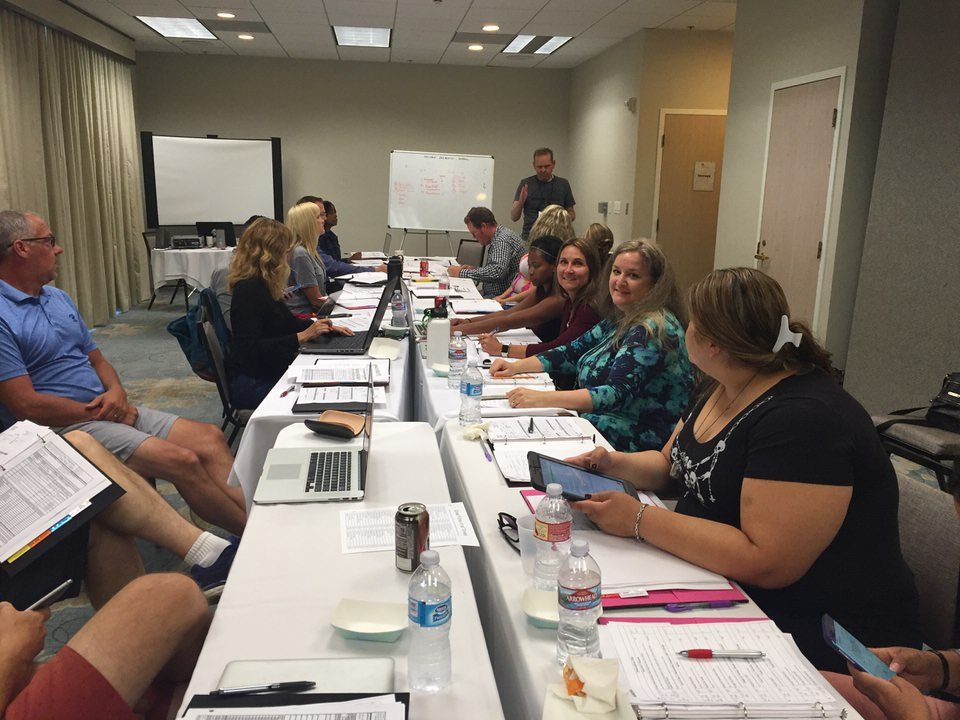 On shoot day the teachers performed perfectly!  They were all pros before we knew it… and their shirts said so.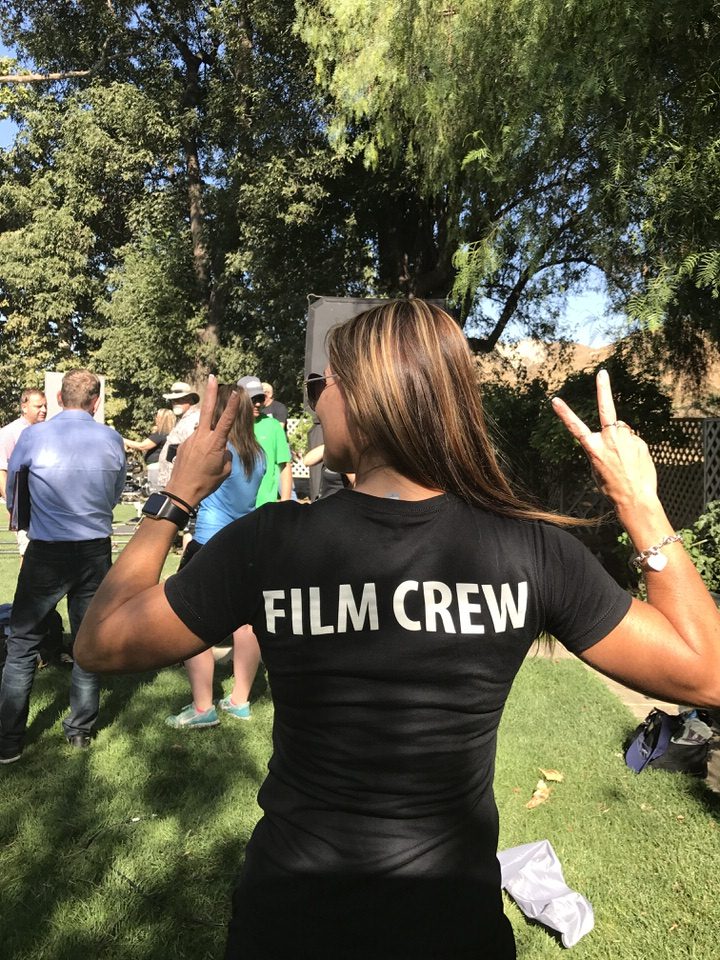 I was also extremely happy with the professional keys we hired to teach the teachers throughout the day.  They immediately understood what we were trying to do and would stop at any moment to help them understand why we were doing things and how they could do them in their classrooms.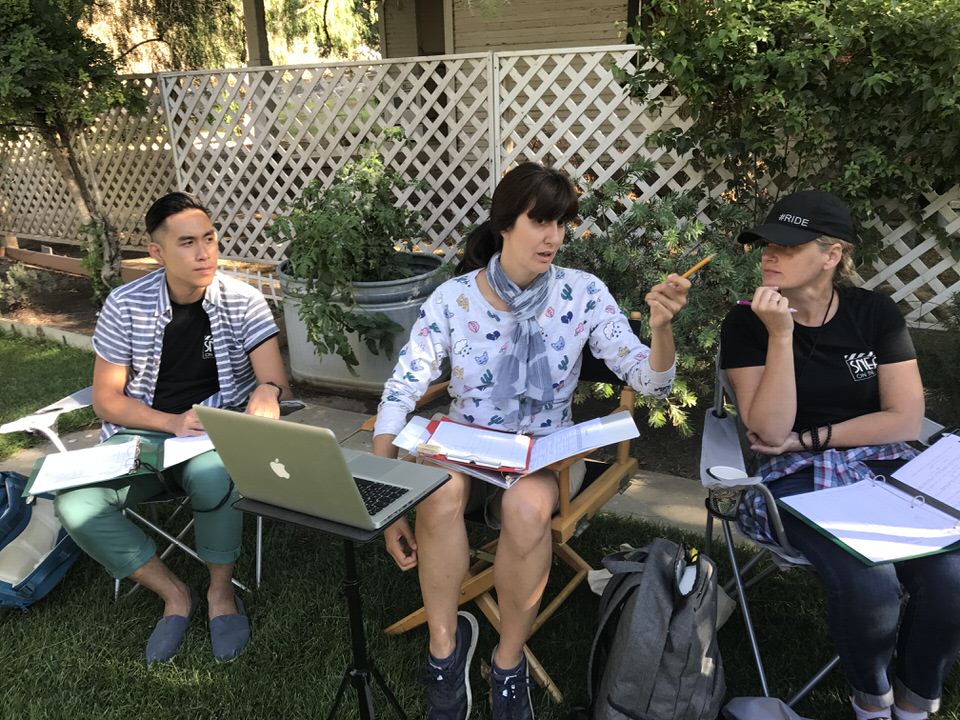 Before we knew it we couldn't tell the difference between a teacher and a hired crew member.  It's exactly what this workshop is designed to do and it's a thrill when it connects as perfectly as it did on, Report Card.
It's a joy to see these teachers in action, working and sweating along with the rest of us.  We try to give everyone a chance to do all the jobs on a movie set and this year's rotations went off without a hitch.  Teachers moved around all the various departments of a film crew and transitioned with ease.  Art Department, Makeup, Hair, Wardrobe, Camera, Production, Grip/Electric… it all went off without a hitch.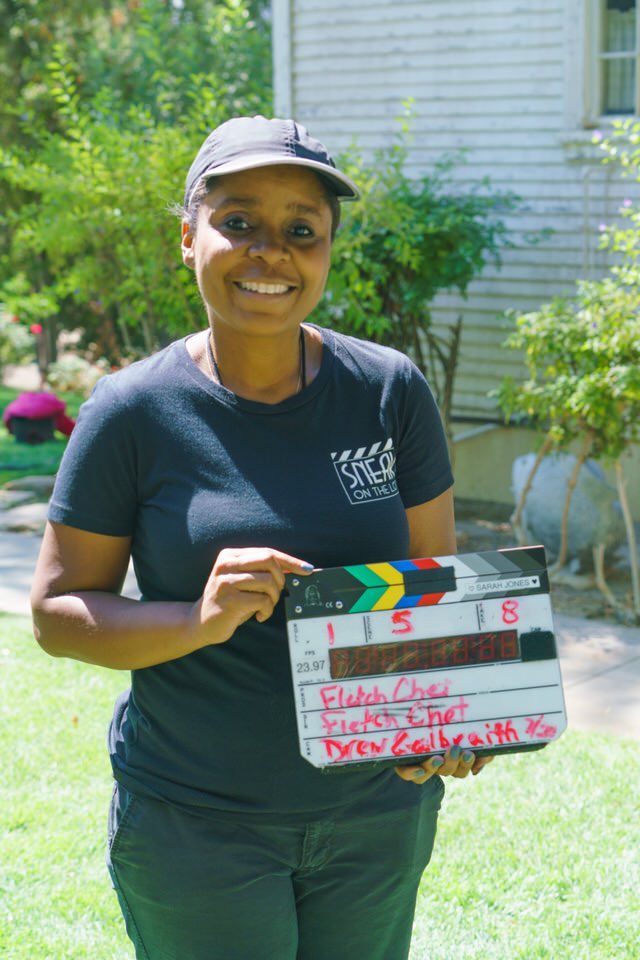 In addition to rotating through all the departments, often there is some downtime where teachers get to try out their skills behind the camera and roll on a take or two.  Those camera wheels are not easy to use but boy are they smooth.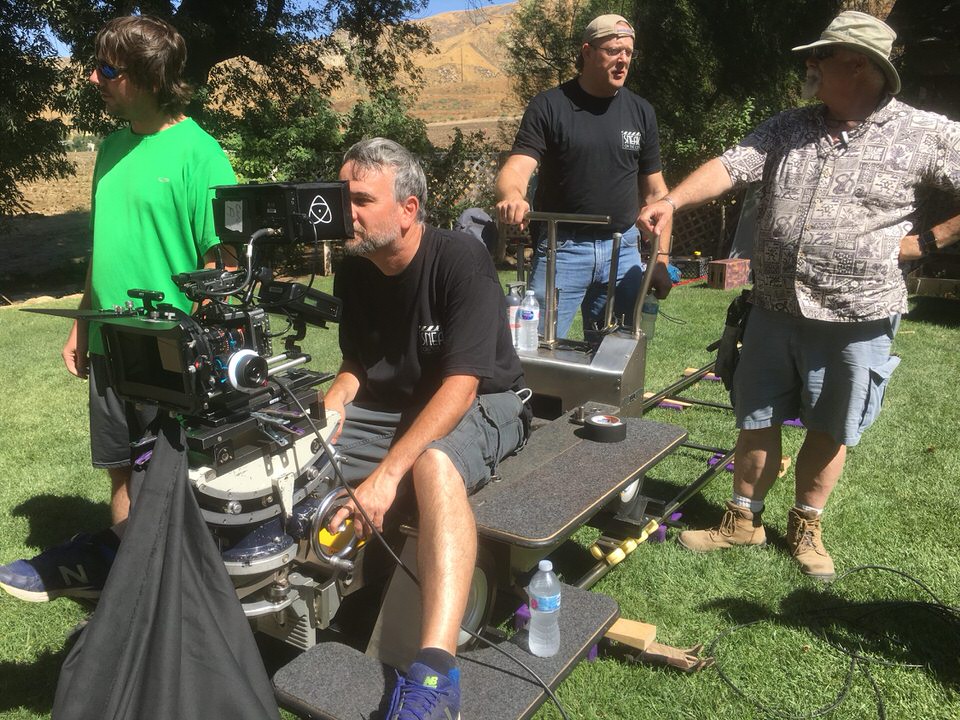 Often the most basic of things can become the most interesting on set.  I think those teachers who had a chance to experience the hot glue gun/spider web shooting pneumatic toy were thrilled.  I must have heard a dozen teachers go on about that thing.  I have to admit, it was pretty cool.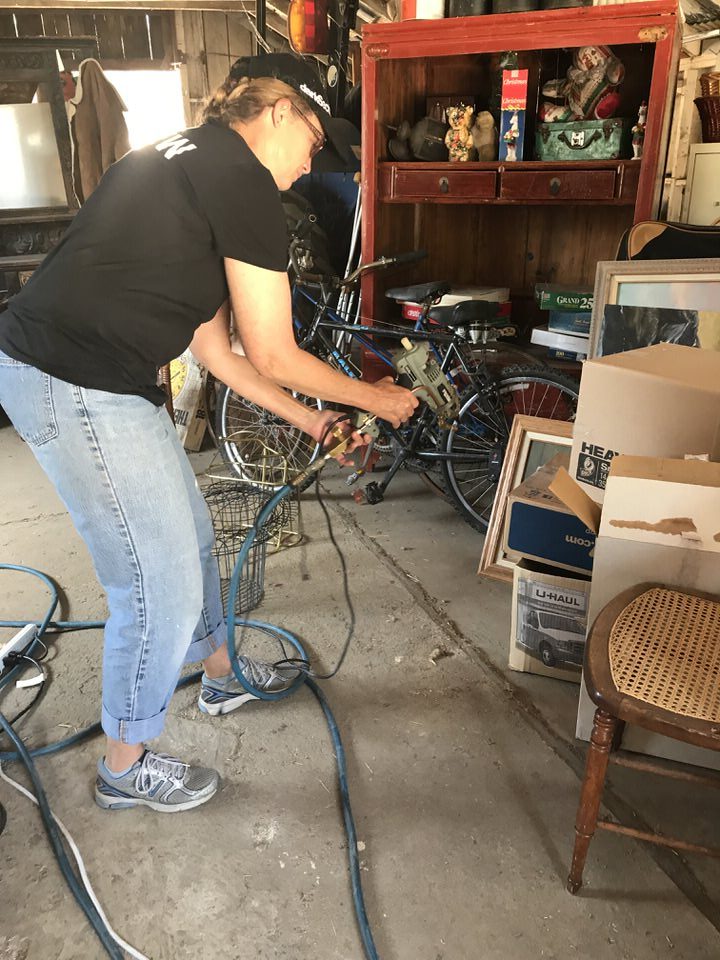 Overall this has been the absolute best workshop we've hosted yet.  It all came together in a magical way that we couldn't predict.  We applaud all the teachers who participated in the 2017 Sneak On The Lot summer workshop, "Report Card", and look forward to next year where perhaps some of you will return for another take.
Teachers
Bryce Hatch – Frontier HS, CA
Dewey Compton – West HS, CA
Erica Greer – Barstow, CA
Janet Armstrong – Wilcox HS, CA
Kathleen Smith – Olathe Northwest, KS
Kiplyn "Kip" Sweikert – West Career & Technical Academy, NV
Lisa Sylvester – Coachella Valley HS, CA
Lisa Keith – Spring Valley HS, NV
Miriam Vela-Sanchez – Coachella Valley HS, CA
Monica Perez – Coachella Valley HS, CA
Sam Knaak – La Serna HS, CA
Scott Cundiff – South Houston HS, TX
Shawna Bernard – Mt. Ridge HS, AZ
Steven Chin – Parlier HS, CA
Tifney Kerney – Sandra Day O'Conner HS, AZ
Toni Jacobs – Rapid City Area Schools, SD
Troy Buller – Ponca City HS, OK