Review Of The Sneak On The Lot Summer Film Workshop
We have been digging through the Lot's archives and came across a great letter written by one of our past workshop participants of our summer film workshop that we think you'll love.  Take a read and let us know what you think.
---
What I Did On My Summer Vacation
by David Alan Loy
I can still remember as a child growing up in a small, strictly middle class Michigan township, hearing my mother sternly reminding that I was "watching too much damned television and movies!  All you do is sit there and stare into that TV set!"  All the time that she was relating her feelings to me, I was dreaming about how it must feel to be a part of a major production.  That dream has continued to grow through the years and even though I have been involved in the productions of many small project, I had yet to find a company that I could become involved with, so I could live that experience.  That was until this summer when Fred Heinrich, from Inner City Filmmakers called me and asked me if I would become involved in a production where we would work side-by-side with students and professional production crews, (Grips, Lighting, Sound, Camera, Makeup, Wardrobe, Director etc.) and collect information that we could take back into our classrooms.  He said that it was about, "Barber Shop", and someone would get in touch with me and tell me when and where.  I wasn't home when the call came from Brian Hennessy, of Sneak On The Lot summer film workshop, but he left a message about the call time and location address.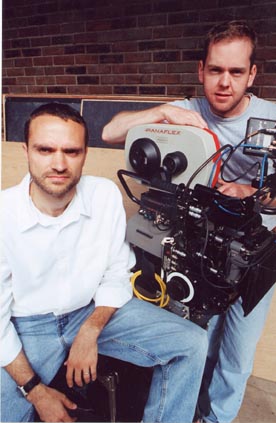 Nothing I could have imagined would have prepared me for the experience that I had in the second week of August, 2001.  Thinking all the time that I was going to a small motion picture shoot, I found myself sitting at the back gate of Universal Studios looking at the address again just to make sure that I had come to the right place, and thinking, "this can't be right."  It was, and what happened over the next four days has now become one of the most fulfilling, rewarding and memorable times of my life.  I have truly lived out in reality, one of my childhood dreams.
From the first person I met, Michael the assistant camera man, to Chet Thomas, the director, everyone involved with the shoot were extremely welcoming and more than willing to help us learn the business.  The first day of shooting I was assigned to Tom's crew, and became a Grip.  I immediately found out that making movies was extremely hard work.  During the course of that day I also worked with Chris Culitan's crew and did some lighting work which was as equally strenuous.
I think that I used up all of my emotions that day from being overwhelmed to being unsure, from extreme joy to extreme exhaustion, from frustration to total satisfaction.  Isn't show business great!  During that day I had a chance not only to meet and bond with the cast and crew, I met some of the students and teachers that were also a part of ICF.  Although we didn't have much time to talk, at times movie making becomes a very fast paced occupation.  By the time that I had a chance to pick my head up it was already lunch time.  One thing that I experienced was if you were hungry or thirsty, there was always something to eat or drink.  After a quick, yet excellent lunch, and restroom break, we were back at it.  It seemed as though the dust hadn't even settled from the morning session before we were back filming again.  The afternoon went as fast as the morning and I soon found myself at home intensely sore, very tired, taking a shower and hoping the night would quickly pass so I could be back making movies again.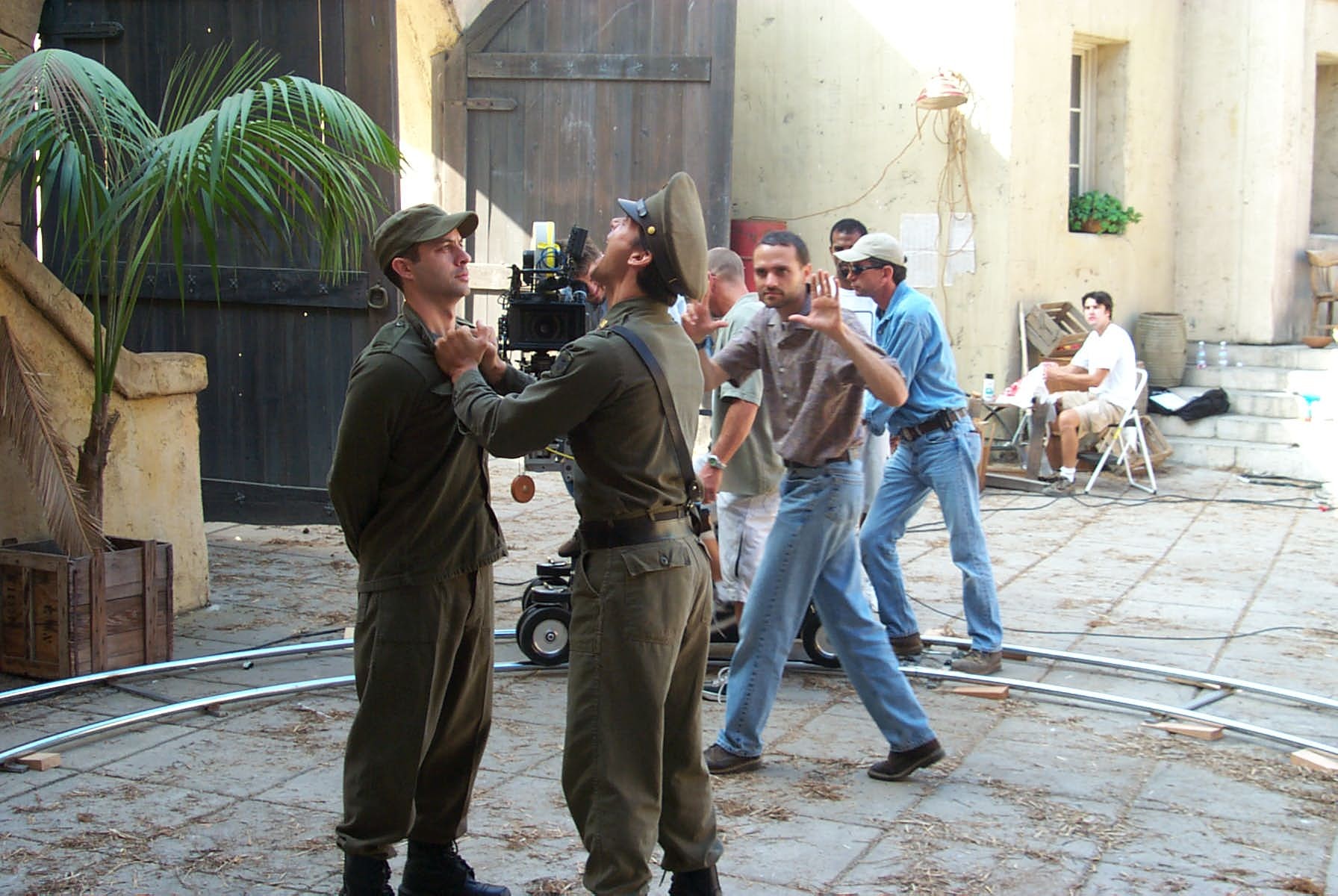 I couldn't make the second day of shooting and I'm sure that was the longest day of my life.  I couldn't concentrate.  I kept looking at the clock.  I would imagine all of the activities that were transpiring on location and wishing I was there and not in my office.  Sounds like I have a little addiction problem, doesn't it?
On the third day of shooting I got a chance very few people get.  I was able to shadow the director, Chet Thomas, and work with him.  After an hour and a half had passed he asked me if I would mind shooting behind the scenes still photos of the production.  Would I mind?  Was he kidding?  He gave me his digital camera and said, "have at it".  I spent all that entire day shooting stills of the process of making a movie and by doing that I learned as much about the processes I would have if I was working the jobs.
It was on the third day that I learned just how fortunate we all were.  When I started talking to the crew members and found out the experience level that they all had.  Some of the members had been working on major productions for over twenty years.  They had worked with some of the biggest producers and directors in the business.  I went to help pick up a camera crane and fount out that the truck what we were removing it from belonged to Steven Spielberg's key grip.  That's when I realized the level of expertise of the crew that we were working with.  It was evident in the way that everyone worked.
I started watching the video monitor and saw the quality of work that we were all delivering.  Realizing that everyone on the set was working for free, they still were working like they had invested in the film.  That type of action is what divides the true professionals from the rest.  If you commit to a project, deliver, or don't commit.  That is what everyone said to me.  It is the unwritten code that all of these professionals follow.  One of the grips told me that he turned down two jobs that would have paid very well because he had committed to this project first.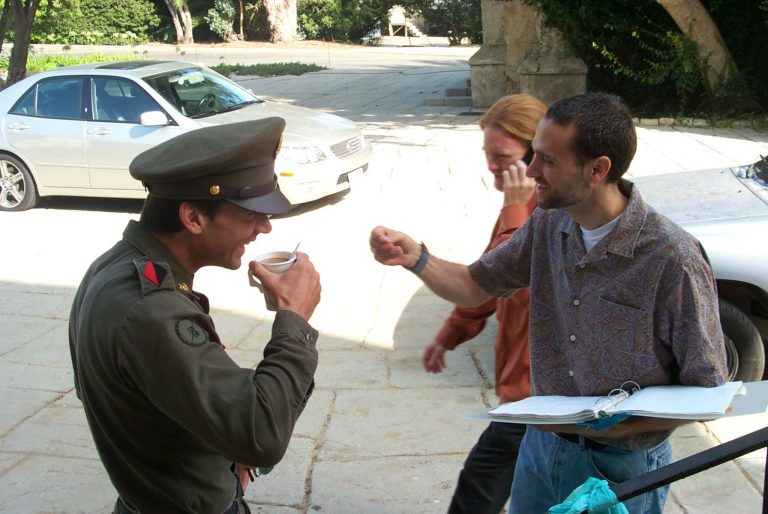 When I got to the set on the fourth day I was somewhat surprised and a little honored.  Chet came up to me and said that they had reviewed some of the photos I had shot and they really liked them.  If I wanted, they would like for me to continue to shoot stills throughout that day.  With that kind of praise and encouragement, I was hooked and I increased my commitment towards this project.  I started working even harder than I did before, if that was possible.  I wanted to make sure that at the end of the day the photos that I was shooting would be of the quality that you show them to anyone.  I shot somewhere around 225-250 stills of this project.  Along with the pictures I would help the grips or light whenever they needed an extra hand.  Teamwork is the name of the game in this media.  As one person told me, this is not an individual art form.  It only works when everyone is working towards a common goal together.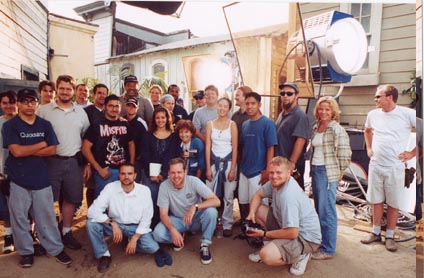 What a surrealistic week!  I worked on the Universal Studios Lot making a movie that will be shown to some of the most influential people in the industry.  I worked with some highly professional craftsmen, some of the best in their field, who shared freely of their special knowledge.  I developed working relationships with some of these people and I'm sure that I have established continuing contacts with others.  I became much more knowledgeable about the process of making a movie.  The things that I learned this week are, if you have a dream… never stop trying and never give up.  No matter what you do, if you commit to it, deliver, or don't commit.  Whatever you do, do it with pride and make sure that you will be proud to put your name on it, and always work with your team for the betterment of the project.  One of the students said it and I was thinking it, "I used to ride on those trams and take the Universal tour.  This week I was part of it."  What a great vacation!
---
A Personal Touch
As I went back through our archives I found this article that had such a personal touch for our film school workshop, Simplicity.  We filmed this right after completing work on Steven Spielberg's, Minority Report.  We love getting these reviews and it reminds us why we host the summer film workshop each year.  Thank you to all those who have donated, guest spoken and given so much to make these workshops a success.