SkillsUSA Digital Cinema Contest June 22-26, 2020
We know how hard students work to make the best films they can.  We understand their passion and dedication.  We also know that teachers all over the country have been upturned and forced to finish off the year in less than optimal circumstances.  This contest is our way of saying, great job, to everyone for all their efforts.
Chet Thomas and Darrin Fletcher have been judging the SkillsUSA Digital Cinema competition at Nationals for the last several years. The level of commitment shown by the teachers and students in this competition is staggering.  These people truly care about creating the best films they possibly can, and it shows.
Step One:
Simply register your school on Sneak On The Lot and upload your  students.  You can upload just those students you want to compete or you can upload your entire classroom (up to 40 students per classroom).  If you are already a subscribing member of the Lot then make sure your competing students are in your class.  All students are eligible to compete in the contest, including 2020 graduating seniors.
Step Two:
Filmmaking teams may consist of up to five students, not including cast.  It should be noted that the 1st place summer workshop prize permits only two students to attend.  Those seats can be given two any two students on the winning team. 
Teams are formed during the uploading process of the completed film.  Each film that is uploaded is required to attach a writer, producer, director, cinematographer, actor and editor.  Simply attach your fellow crew members and your team is officially formed.  A single student can be attached as all of the required positions if that student is performing each of those tasks.  Teams can be comprised of one student or up to five students.  Keep in mind to follow all local regulations concerning COVID 19.
The SkillsUSA Digital Cinema Contest 2020 course can be found in the curriculum.  This course will guide the students  and prompt them to perform various tasks throughout the contest.  Each student on the team must complete this course independently from their crew.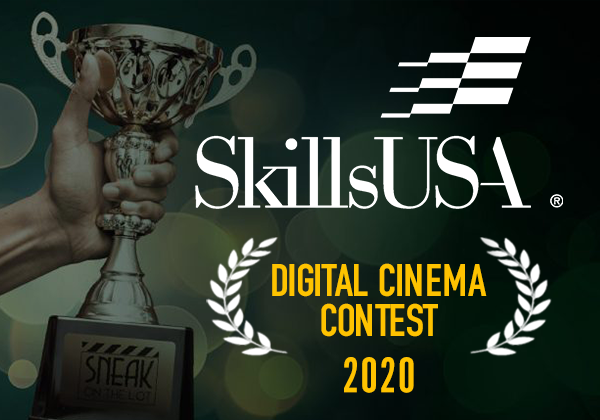 Step Three:
There are a few assignments that you can get started on right away.  Your students will be asked to watch several movies from a trio of filmmakers.  This is in preparation for the contest so don't waste any time… get in there and get started!
Step Four:
The contest will begin at 7:00AM Pacific Time on June 22nd, 2020.  There is a countdown timer on the home page as well as the course page to remind the students how much time they have left to complete their films.
You must be a registered SkillsUSA school to participate in the contest.
Participants must have been a student during the 2020 school year.
Filmmaking teams may consist of 1 to 5 crew members. 
Students must complete each of the assignments in the SkillsUSA Digital Cinema Contest course.
Each student must pass the course test with at least 60%.
There are no restrictions on what equipment you can use.  If you can get your hands on it, use it!
Your film must complete the upload process before 11:59PM PST, June 26, 2020.
The contest will be divided into two portions: a written exam that will assess knowledge in industry standards and the production of a short video, that will be evaluated on several aspects of development, preproduction, production and post production. The filming and editing of the short video must all be completed between the commencement time and completion time of the contest.
(All footage must be filmed after the contest has begun.)
Knowledge Performance
The contest will include a written exam covering basic cinema knowledge. The team members will complete the test independently. The exam will be accessible once the production and post production portions of the contest are opened.
Prizes
1st Place:
Lighting gear from LiteGear, Hive Lighting and Quasar ($3,000 value)
Grip equipment from Matthews ($1000 value)
We're talking to several camera companies now)
1 Teacher grant to Sneak On The Lot 2021 Summer Works ($5000 value) Learn More *
2 Student grants to Sneak On The Lost 2021 Summer Workshop ($7,000 value) Learn More *
3 year subscription to Sneak On The Lot website
Zoom meeting with USC Film Professor
Letters of recommendation from Sneak On The Lot for college applications
Course certificate
2nd Place:
2 year subscription to Sneak On The Lot website
Letters of recommendation from Sneak On The Lot for college applications
Course certificate
3rd Place:
1 year subscription to Sneak On The Lot website
Letters of recommendation from Sneak On The Lot for college applications
Course certificate
*Air travel not included.